L'art de l'attaché du foulard avec Stéfy, co-créatrice de la marque PallAya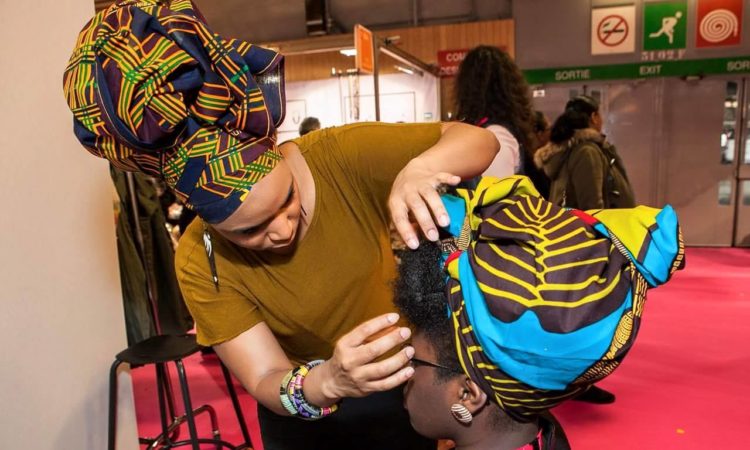 Stéfy fait partie de ces premières personnes que My Afro'Week croise régulièrement lors de nos sorties. Cette jeune femme multitalent est la co- fondatrice (avec sa mère) de la marque PALLAYA : de la création de bijoux aux ateliers d'attachés du foulard.  Apprenez en plus sur son univers.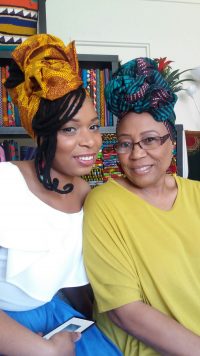 LES ATELIERS BE SHELLBE
L'histoire de Stéfy commence à Haïti, dans un univers coloré et créatif. Issue d'une famille de femme entrepreneuse dans le textile, elle passe son enfance à Paris où, tout naturellement, elle entreprend des études dans la Mode. Une fois son diplôme en poche, c'est une évidence pour elle de lancer en collaboration avec sa mère : la collection d'accessoires PALLAYA.
PALLAYA, c'est l'expression de leur créativité et de leur amour pour le Wax. Stéfy et sa mère ont créé une collection composée de parures et accessoires colorés, de bijoux d'inspirations Massaï, et de vêtements customisés en pagne.  Dans son quotidien le tissu est devenu son meilleur allié notamment lors des ateliers « Be SHELLBÈ »
Comment as-tu découvert l'art de l'attaché du foulard ?
J'ai découvert cet art durant mon enfance en observant ma mère devant son miroir en train de se coiffer. Puis, en grandissant, j'ai retrouvé cette manière de faire chez mes copines maliennes/sénégalaises qui s apprêtaient pour participer à de grandes fêtes ou des cérémonies.
Aujourd'hui qu'est ce que représente l'attaché pour toi ?
L'attaché du foulard représente pour moi la liberté d'être belle autrement. Avec un morceau de tissu et un bon coup de main, une femme est capable de redéfinir les règles de l'élégance. Son turban est son bijou. Elle l'utilise pour affirmer sa beauté. Ça me fascine et c'est la raison pour laquelle, je le porte aussi souvent.
Comment as tu appris a maîtriser cet art ?
Depuis l'âge de 15 ans, je le porte quasi quotidiennement. A force de pratique, j'ai pu me perfectionner et développer mon propre style, qui trouve son inspiration dans les  matières, les tissus qu'ils soient imprimés ou unis, par leurs mouvements au contact des mains qui l'enroulent, le nouent, le plissent.
Pourquoi avoir décidé de transmettre ce savoir ?
Cet héritage est devenu ma passion et je souhaitais démocratiser le port du foulard auprès d'un large public. J'aimerais qu'il devienne un accessoire commun, qu'une femme, et pas seulement une africaine, porterait comme on porte un chapeau ou un bandeau. Car au delà d'embellir son apparence, porter un turban contribue à valoriser l'estime  de soi. Grâce au foulard, une femme atteinte du cancer peut se sentir aussi belle qu'une autre. Le bien être dans la maladie peut devenir déterminant dans le processus de guérison. Être Shellbè,  c'est aussi un état d'esprit.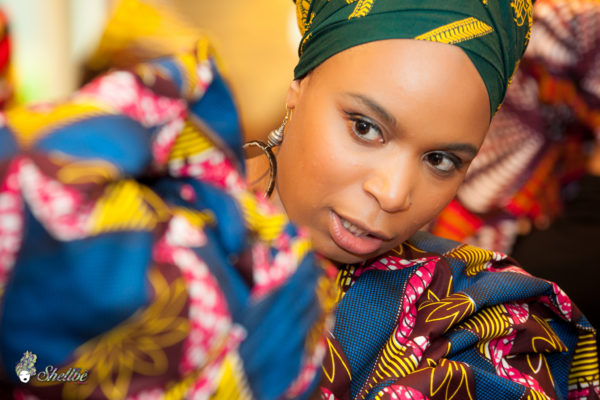 Qu'est ce que Shellbè veut dire ?
« Shellbè » en créole haïtien: c'est être Chic, savoir se distinguer par son style, ou tout simplement être élégant.
Shellbè a été le terme idéal pour lancer notre concept: Proposer des ateliers  d'initiation à l'art de l'attaché du foulard et des démos à la vente de ceux-ci.
Comment se déroulent tes ateliers 'BeShellbè' ?
Il y a deux types d'ateliers :
Les ateliers à domicile durant lesquels j'enseigne les bases de l'attaché et ses  infinies déclinaisons.
Ces ateliers se déroulent en général lors de moments intimistes comme des   enterrements de vie de jeune fille, anniversaires, et après midi entre copines ou en famille. J'anime également des ateliers en groupe sur Paris et bientôt un peu partout en  France.  Je transmets en  une heure, les méthodes d'un attaché réussi sur le plus  grand format de foulard que nous proposons : le Makeda.
Le 'Tiko » et le « Kilemba » les plus petits formats, eux, sont disponibles à la vente.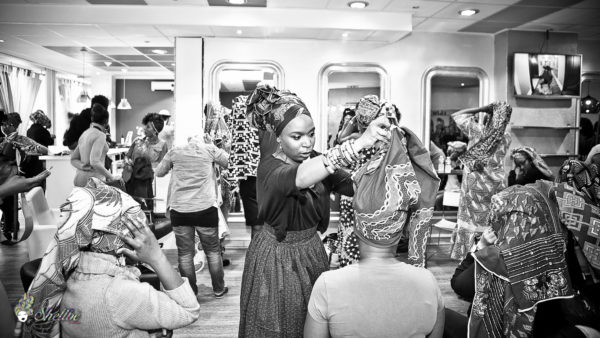 L'attaché du foulard a le vent en poupe, selon toi qu'est ce qui te différencie des autres Headwrappeuses ?
Nous avons développé une approche pédagogique voire même thérapeutique pour  montrer qu' « être Shellbè » est à la portée de tous. L'un de nos atouts se trouve dans le fait d'avoir créé différents formats de tissus.
Le Kidjo, notre plus petit format est idéal pour les attachés express, du simple serre tête, au style rétro Pin Up.
Le Badu, la version longue à variation multiples, facile à entortiller sur le devant à la IMANY pour un look tendance et casual. Et enfin, le Makeda pour les plus audacieuses, le must pour les attachés majestueux et créatifs
Retrouvez l'actualité de Stefy sur ses pages Facebook
Ou par mail : pallaayacreation@gmail.com 
Tags :
attaché du foulard
bijoux
Création
foulard
headwrap
headwrapping
pallaya
rencontres
shellbe
turban